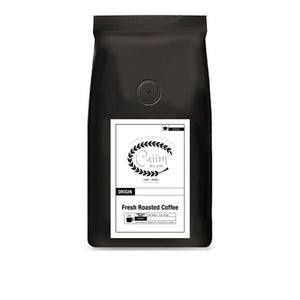 This is delicious coffee is medium to full bodied with a balanced aroma combining mild tanginess with a mild, toasty sweetness. The acidity is balanced as well, softly sweet yet brisk. Taste the difference, you'll love it.
FLAVOR NOTES: Chocolate, lemon, plum & honey undertones
Caiim-licious
Damn this is is good! Sent mine to my office and the mailman was saying he was hooked just by smelling the freshness of the coffee as he was delivering it to me.. made him stay for a cup. now that is a fresh roast! Taste is out of this world ! Got my team working like clockwork! Thanks for ur amazing coffee, keeps us on our toes!
I love this coffee!
I'm glad I came across this site. I finally found the perfect of coffee. So smooth and aroma is outstanding - like a coffeehouse brewing.
Always fresh !
I love how fresh it is. Very authentic and very pleasing to the palette.wonderful!