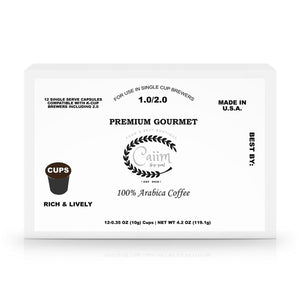 Introducing our Caiïm K-Cup brewing capsules, designed right, brewed right for your on-the-go coffee needs.
A premium blend single serve coffee we call 'Original Roast'. This is our signature blend of premium gourmet coffees that make a rich,bold and smooth taste of delicious-ness in a cup.
Each coffee capsule is sealed with no oxygen inside (no air) so the coffee stays fresh. An improved filter design stops coffee from shooting right through the middle, absorbing more grounds for a lively cup, without slowing down the brew time.
Popular at the office!
I really like this - a lot. So much that we switched out our boring k-cups from the regular supermarket for Caiim. I must say a positive results. Thanks for this.
Sipped it, loved it !
Finished that 12 pack like it was nobodies business.. so I apted for the 60pk. Sharing it with the office crew. Clients we serve the coffee to in waiting rooms ask what kind of coffee we carry, so we tell where to get it. And yes- we did mention purchases helps to donate to clean water projects. Rock on Caiim.